Who is CenterPoint Energy?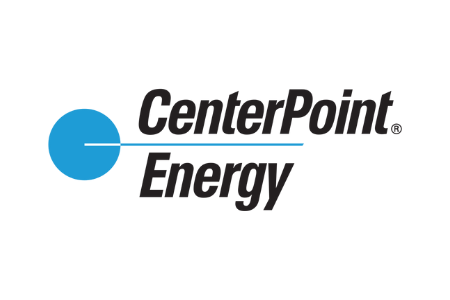 CenterPoint Energy is a Fortune 500 electric and natural gas utility company serving several markets in Indiana, Ohio, Louisiana, Minnesota, Mississippi, and Texas. Founded in 1882, the company includes electric transmission and distribution, natural gas distribution, and competitive natural gas sales.
What Does CenterPoint Energy do?
CenterPoint Energy provides natural gas, electric transmission and distribution, mobile energy solutions, pole attachments, surveying and right-of-way and telecommunication delivery services for both residential and commercial properties. CenterPoint Energy's core values are safety, integrity, accountability, initiative, and respect for customers, investors, employees, and communities. CenterPoint Energy invests in their communities through financially supporting quality literacy programs spanning from early childhood to adult literacy as well as STEM education programs. The corporation also provides a matching program for CenterPoint employees which match donations one for one making twice the impact!
How does CenterPoint Energy make a difference in the Miami Valley?
CenterPoint Energy financially supports local organizations through grants. Recently CenterPoint supported Big Brothers Big Sisters Miami Valley through a grant to fund our community and school based mentoring programs including a Trauma Informed Training for our volunteer Bigs. Since 1958, Big Brothers Big Sisters Miami Valley has provided mentorship programs for local youth in need of care and guidance. As the community's largest evidence-based mentoring organization, serving over 400 local youth, we remain committed to growing and adapting to meet emerging needs. The children we serve predominantly reside in single-parent, TANF eligible, female-headed households, are experiencing academic difficulties, low school attendance, limited social skills development, and problem behaviors either at school, at home, or in the community. Understanding that more than 90% of the youth we serve report at least one adverse childhood experience (ACE), and knowing the lifelong impacts caused by ACEs, we now provide Trauma-Informed Care training for our volunteer mentors and parents of enrolled youth. The training creates awareness and understanding of trauma and its impact on learning and behavior, providing mentors and parents the tools to support the child, both academically and emotionally. Ensuring K-12 students' academic success is a priority for Big Brothers Big Sisters. Academic success is vital for young people because it provides youth with the tools and critical skills to gain employment and provide for themselves and their families in the future. Our Bigs encourage better attitudes about school, promote attendance, and often indirectly, help Littles set higher educational goals. Mentoring matches are encouraged to focus on reading, and track hours in reading logs.
To further promote academic success, we distribute Chromebooks, wireless headphones, books, and school supplies to enrolled youth that express needs. This helps to start them on the right path to a successful school year.
About Big Brothers Big Sisters Miami Valley
Since 1958, the mission of Big Brothers Big Sisters Miami Valley is to create and support one-to-one mentoring relationships that ignite the power and promise of youth. Big Brothers Big Sisters operates under the belief that inherent in every child is incredible potential. We make meaningful, monitored mentoring matches between adult volunteers (Bigs) and local youth (Littles), ages 7 through 18, across Montgomery, Miami, Greene, and Preble counties. As the leading evidence-based mentoring organization in the Miami Valley, currently serving 344 local youth, we help children realize their full potential and build strong futures. 
In addition to one-to-one mentoring, we provide group match activities focused on STEM to build confidence and self-efficacy around science, technology, engineering and math subjects and to expose them to various related career paths to help break the cycle of generational poverty. We also provide family care packages which include nonperishable food, personal care items and cleaning supplies to the youth who are in most need.
How Can You Get Involved in the Miami Valley?
We are always looking for volunteer mentors to match with youth in the Miami Valley. If you think you would make a great mentor to a child, sign up today!