Grist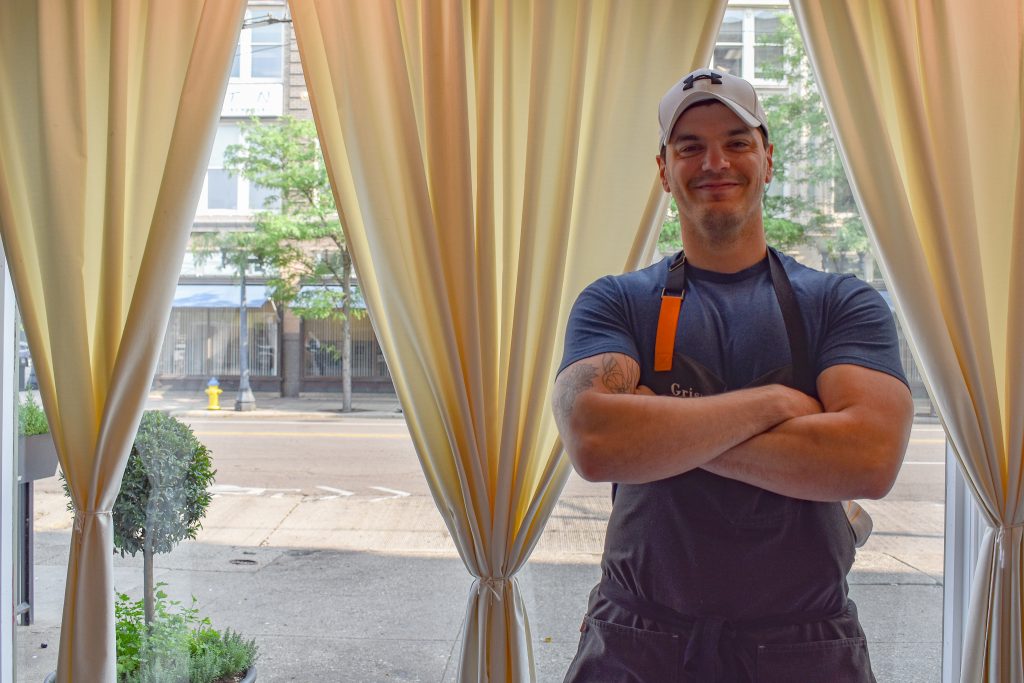 Founded in 2018 and relocating to 46 W. Fifth St. downtown in early 2021, Grist is owned and operated by husband-and-wife dream team Casey and Patrick Van Voorhis. Named after the grain that is used to make flour, they are the proverbial grist for the mill: a business that provides food products and knowledge for a greater culinary purpose.
Casey and Patrick first met at the Culinary Institute of America in Hyde Park, New York. Soon after graduating, the two moved to San Francisco to immerse themselves in the culinary scene. When the duo decided to move to Casey's hometown of Dayton, Ohio bringing with them the idea that you don't need to "Spend a ton of money or time making a dinner you feel good about."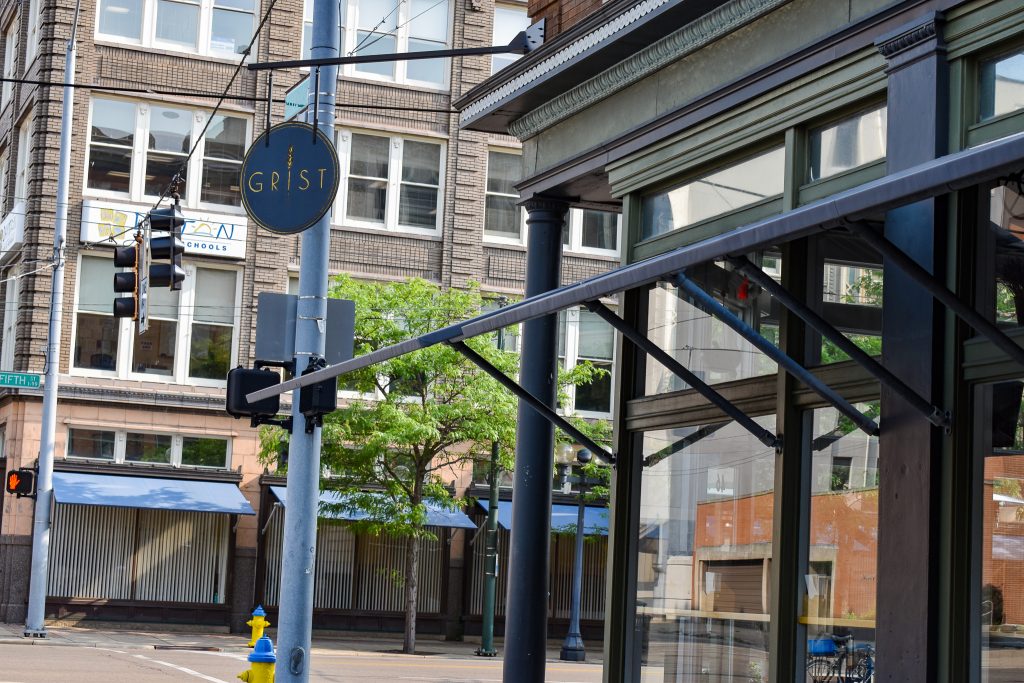 The restaurant is looking to create something that really makes people feel at home when they come for lunch or dinner. "I think our restaurant, and I use that term very loosely for what we have here is kind of unique because it's something very atmospheric, it's very laid back, very casual kind of experience. We always try to tell our guests that it's like your kind of coming into our house, but the food we serve might be a little better than what you get at home. I think we're very fortunate, especially being in this area. It's really kind of taken off. And, you know, our style of food is, I think, kind of traditional, somewhat traditional kind of Italian fare. And I always think of it as more a type of Trattoria, it's like a café- we make fresh pastries, make fresh pasta, try to focus on using great ingredients, working with various local purveyors when we can, and just kind of providing a product that feels like it's much more elevated what you're eating." Patrick goes on to mention that he believes they are able to offer such a homey atmosphere because they are a husband-and-wife team. They pride themselves on that atmosphere created and they hope every one of their guests has that feeling of home when they leave after their meal.
Grist has been partnering with Big Brothers Big Sisters by participating in Bright for the past four years. When asked why they enjoy partnering for the event, Patrick mentioned, "It's kind of family. You know, my brother-in-law is involved in this program and a couple of my friends, and I think it's just been really unique for us to be able to give back in the way we know how, which is through food." The small business also looks to make a difference in their community through food donations, "We take bread to a lot of local shelters at the end of our days, you know, things that are fresh that we didn't sell that day. We try to give back when we can."
About Big Brothers Big Sisters Miami Valley
Since 1958, the mission of Big Brothers Big Sisters Miami Valley is to create and support one-to-one mentoring relationships that ignite the power and promise of youth. Big Brothers Big Sisters operates under the belief that inherent in every child is incredible potential. We make meaningful, monitored mentoring matches between adult volunteers (Bigs) and local youth (Littles), ages 7 through 18, across Montgomery, Miami, Greene, and Preble counties. As the leading evidence-based mentoring organization in the Miami Valley, currently serving 344 local youth, we help children realize their full potential and build strong futures.
In addition to one-to-one mentoring, we provide group match activities focused on STEM to build confidence and self-efficacy around science, technology, engineering, and math subjects and to expose them to various related career paths to help break the cycle of generational poverty. We also provide family care packages which include nonperishable food, personal care items and cleaning supplies to the youth who are in most need.
How Can You Get Involved in the Miami Valley?
We are always looking for volunteer mentors to match with youth in the Miami Valley. If you think you would make a great mentor to a child, sign up today!