Sueño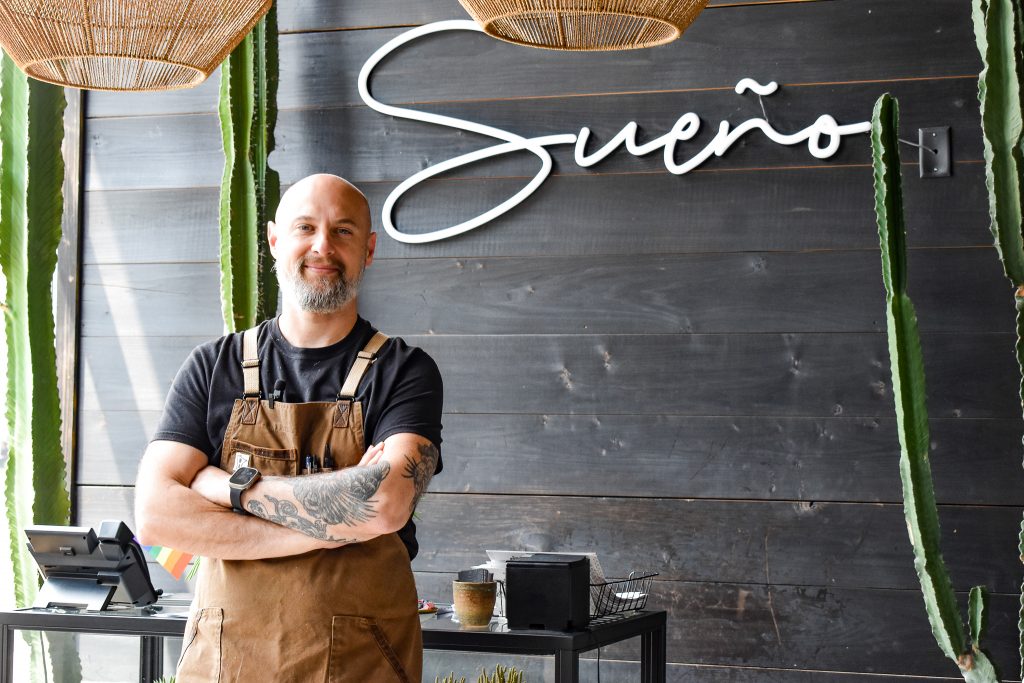 Located in Dayton, Ohio, with a menu that showcases both classic Mexican dishes and innovative creations, Sueño invites diners on a journey through the diverse flavors of Mexico.
Food has a remarkable power to evoke memories and bring people together. Chef Jorge Guzmán says "What inspired me to become a chef, I think, is the food that I would have around the table in Mexico. I think some of my fondest memories come from my family's table, my grandmother's table, and having lunch with my aunts and uncles – I can always remember how much affinity I had for the food. And as I grew older, I just got interested in cooking and kind of followed that path." For Chef Jorge Guzmán, the inspiration to become a chef stems from the cherished moments shared around the table with his family in Mexico. The flavors, aromas, and love that permeated those meals ignited his passion for cooking and set him on a culinary path that would eventually lead him to Sueño.
At Sueño, the focus is unwaveringly set on Mexican cuisine, with Chef Jorge and his team committed to delivering an authentic and exceptional dining experience. "it's traditional Mexican, but also creative Mexican. We do some dishes that are very traditional to certain regions in Mexico. And then we do take liberties with influences from Mexican food and create our own takes on dishes." While they stay true to traditional Mexican flavors, they also draw inspiration from various regions and cultures that have influenced Mexico over the years.
What sets Sueño apart from other restaurants in the area is its unwavering dedication to Mexican cuisine. "We've got some really great restaurants in the area. In terms of what sets us apart, I think it's our cuisine. You know, we are very, very stuck on doing Mexican and doing it very well. We haven't deviated from from that, even though we knew it was going to be a challenge to maybe introduce this kind of cuisine to the area. We really stuck to our guns and we've been received very well, which has made us extremely happy." Chef Jorge and his team have remained steadfast in their commitment to showcasing the depth and versatility of Mexican flavors, even when faced with the challenge of introducing this cuisine to a new audience.
As a Mexican chef, Chef Jorge's cooking style is deeply influenced by his heritage. Growing up in a region of Mexico with a distinct culinary identity, he draws inspiration from the flavors, techniques, and traditions unique to his hometown. Yet, he also finds inspiration in his peers, other chefs whose creativity and innovation push the boundaries of culinary artistry. Chef Jorge believes that continuous learning and growth are essential in his profession, and he surrounds himself with a team that shares the same passion for culinary excellence.
Chef Jorge recognizes the importance of community engagement and giving back. Throughout his career, he has actively participated in events and initiatives that support various causes. Sueño, too, is deeply committed to making a positive impact through food, whether it's supporting local food banks, organizations like Second Harvest Heartland, or partnering with Big Brothers Big Sisters. Their involvement in the community reflects their belief in the transformative power of food and their commitment to using their culinary skills to make a difference.
Sueño, under the guidance of Chef Jorge Guzmán, offers more than just a dining experience—it's an exploration of Mexican flavors, traditions, and the warmth of Mexican hospitality. Each dish tells a story, a tale of family, heritage, and the passion that goes into creating a memorable culinary experience.
Sueño is a featured restaurant for Big Brothers Big Sisters event Bright. Purchase Tickets.
About Big Brothers Big Sisters Miami Valley
Since 1958, the mission of Big Brothers Big Sisters Miami Valley is to create and support one-to-one mentoring relationships that ignite the power and promise of youth. Big Brothers Big Sisters operates under the belief that inherent in every child is incredible potential. We make meaningful, monitored mentoring matches between adult volunteers (Bigs) and local youth (Littles), ages 7 through 18, across Montgomery, Miami, Greene, and Preble counties. As the leading evidence-based mentoring organization in the Miami Valley, currently serving 344 local youth, we help children realize their full potential and build strong futures.
In addition to one-to-one mentoring, we provide group match activities focused on STEM to build confidence and self-efficacy around science, technology, engineering, and math subjects and to expose them to various related career paths to help break the cycle of generational poverty. We also provide family care packages which include nonperishable food, personal care items and cleaning supplies to the youth who are in most need.
How Can You Get Involved in the Miami Valley?
We are always looking for volunteer mentors to match with youth in the Miami Valley. If you think you would make a great mentor to a child, sign up today!