Watermark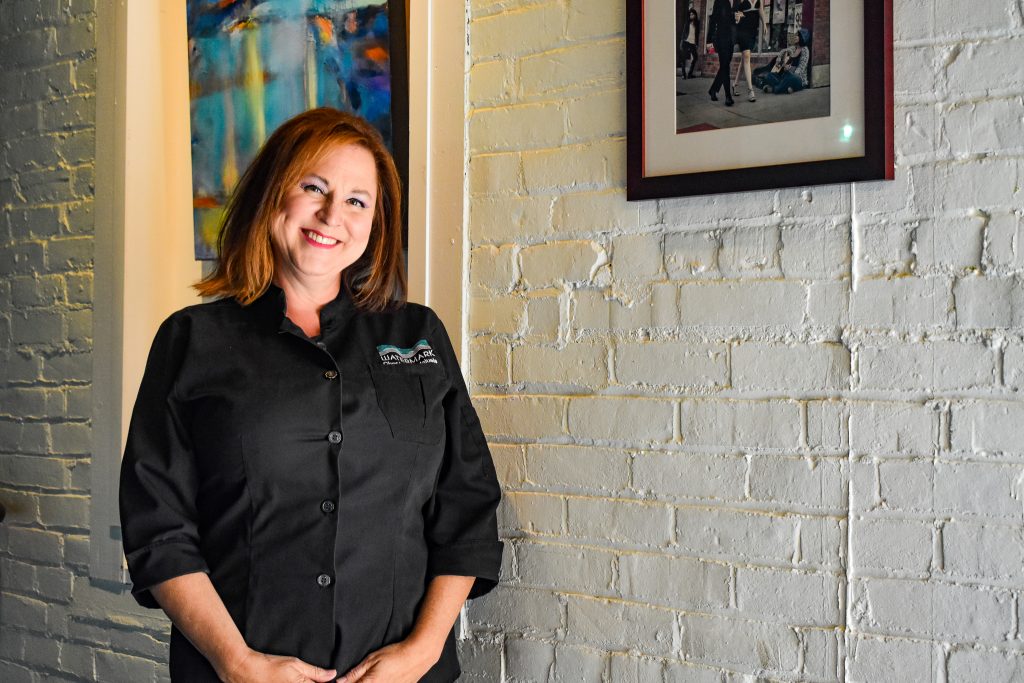 Founded in 2017, Watermark Restaurant is located in Miamisburg Ohio on 1st Street. Led by chef and owner, Maria Walusis, Watermark has established itself as a culinary mainstay in the Dayton food scene. Maria and her husband also own the restaurant next door to Watermark, Backwater Voodoo, which got its start in 2021 and is one of the only tiki bars in Ohio.
Maria has always loved cooking but has not always been in the culinary industry. Working originally as a dental hygienist, she decided to make the switch to pursue her passion for food and love of cooking. "It's a very challenging business and career choice. But I do love the creativity – and I love there's always going to be something new to learn and something to grow. A new ingredient, a new technique, a new cuisine. Something to learn and keep growing." Says Maria.
Watermark, an upscale, casual restaurant nestled in the heart of downtown Miamisburg has a wide variety of options for diners. "We have things as simple as a burger and fish and chips, and also we have a three-course tasting menu that changes every month." Maria goes on to talk about how they like to branch out so diners can try a variety of items. "We try to do things that you don't see anywhere around the city. So there's dishes here that you won't see anywhere else. We do have a burger and fish and chips, but we have some really creative things like Coca-Cola braised pork cheeks, and our meatloaf wellington. Those are just some of our unique dishes that you don't see every day. And that's what I want. I want to set ourselves apart with different dishes."
Backwater Voodoo, a casual restaurant featuring a tiki bar neighboring Watermark got started while looking to create something unique in Miamisburg. "I'm just always looking for something new to try. My latest big passion has been New Orleans food. When I travel, I get a lot of inspiration. I try to figure out what's the local thing here? What's the local dish, food, ingredients, and explore a city that way."
Maria and the teams at her restaurants are committed to the community. "We do a lot of charity events. And we want to serve. We want to help." Maria specifically helps with Bright each year due to her personal connection with Big Brothers Big Sisters programming. "I think it's important. My kids are adopted. So, I understand having those adults and parents and figures in your life really, really matter to these kids." Maria also shared that her cousin was a volunteer Big in our program. "We also had a cousin who was a Big Brother for many, many years, and he started with his Little Brother. I think he was around seven. He's an adult now. They still hang out. They're still friends. He was in his wedding, you know, very cool that they embraced this little boy and have been lifelong friends."
Maria will be a featured chef at Bright in Are you interested in attending Bright? Purchase Tickets.
About Big Brothers Big Sisters Miami Valley
Since 1958, the mission of Big Brothers Big Sisters Miami Valley is to create and support one-to-one mentoring relationships that ignite the power and promise of youth. Big Brothers Big Sisters operates under the belief that inherent in every child is incredible potential. We make meaningful, monitored mentoring matches between adult volunteers (Bigs) and local youth (Littles), ages 7 through 18, across Montgomery, Miami, Greene, and Preble counties. As the leading evidence-based mentoring organization in the Miami Valley, currently serving 344 local youth, we help children realize their full potential and build strong futures.
In addition to one-to-one mentoring, we provide group match activities focused on STEM to build confidence and self-efficacy around science, technology, engineering, and math subjects and to expose them to various related career paths to help break the cycle of generational poverty. We also provide family care packages which include nonperishable food, personal care items, and cleaning supplies to the youth who are in most need.
How Can You Get Involved in the Miami Valley?
We are always looking for volunteer mentors to match with youth in the Miami Valley. If you think you would make a great mentor to a child, sign up today!