Joui Wine Bar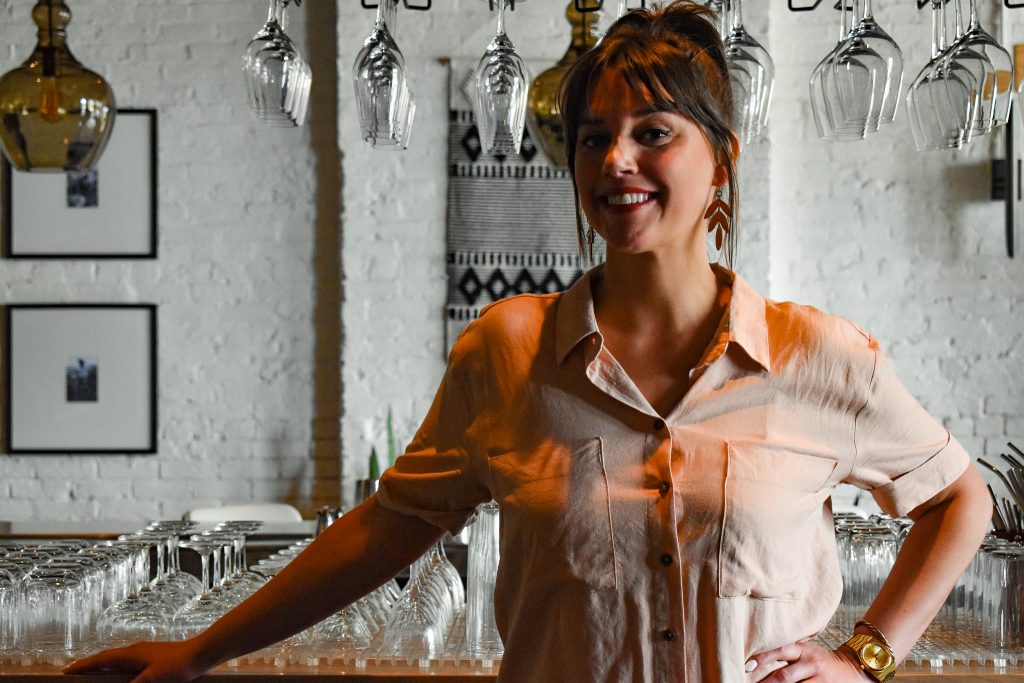 Soon-to-be wine bar Joui Wine will be coming to the Fire Blocks District as early as September this year. Joui Wine Bar is headed up by Lauren Gay, a sommelier, Ohio State graduate, and a Dayton native. The location was a long time coming, as Lauren had been looking for the perfect space for her business to call home for about four years.

Lauren shows a passion for her community and a commitment to the environment which she seeks to make a part of her business model. "So, I want to focus on organic wines of the farming industry, the wine industry. Lots of agricultural things just have such a terrible impact on our environment. So, making sure that we're with our financial and economic choices, supporting people that want to continue to do good and respecting the environment is really important to me. And I also like supporting minority winemakers and winery owners. So, I do try to find members of the LGBTQ community or minorities or women that lead the charge on the wines that I select for my programs and for the wine shop." She's also working to make a difference in the community through supporting fundraising events. "I've also donated a lot of private wine tastings to different fundraisers. The Humane Society is a big one. I think we've donated two or three years in a row for private wine tastings to help with their silent auctions."
Lauren has worked in the hospitality industry for two decades now. The journey all started when she decided to make the move to Los Angeles to pursue a career in music management. She then instead began developing her skills in the wine industry under Nancy Silverton, and ch Spacca. Soon after, she began managing wine programs in Las Vegas, San Francisco, and Ohio.
What sets Joui Wine apart? Lauren is looking to make wine approachable to everyone. "Joui Wine will be a little bit different than a lot of bars and retail shops in the area, mostly because I just want to shed any pretension from the wine industry. There are so many people that are intimidated by wine, partially because of the people that know about wine, how they have this air of just knowing more. And that can kind of ostracize a lot of people from the wine community so Joui will be fun and approachable. It will not be stuffy. It will be colorful and bright and just generally a fun place to be."
Lauren and Joui Wine Bar will be featured at Bright in 2023! Purchase Tickets.

About Big Brothers Big Sisters Miami Valley
Since 1958, the mission of Big Brothers Big Sisters Miami Valley is to create and support one-to-one mentoring relationships that ignite the power and promise of youth. Big Brothers Big Sisters operates under the belief that inherent in every child is incredible potential. We make meaningful, monitored mentoring matches between adult volunteers (Bigs) and local youth (Littles), ages 7 through 18, across Montgomery, Miami, Greene, and Preble counties. As the leading evidence-based mentoring organization in the Miami Valley, currently serving 344 local youth, we help children realize their full potential and build strong futures.
In addition to one-to-one mentoring, we provide group match activities focused on STEM to build confidence and self-efficacy around science, technology, engineering, and math subjects and to expose them to various related career paths to help break the cycle of generational poverty. We also provide family care packages which include nonperishable food, personal care items and cleaning supplies to the youth who are in most need.
How Can You Get Involved in the Miami Valley?
We are always looking for volunteer mentors to match with youth in the Miami Valley. If you think you would make a great mentor to a child, sign up today!